PROJECT
DESCRIPTION
Project address: Ningbo Modern Mall, Zhejiang province-bokni Whole Wood Modern Mall Exhibition Hall
Project Area: 153 square meters
Complete Project Location: U-SUN Design & Terri Design
main project design: Lou Xiao Dong
participating design: JOY Tao
DESIGN MATERIALS: Latex paint, artificial stone, composite floor, solid wood wall, custom cabinet
All creation is actually a kind of artistic conception. The film looks at it in small, unmoving ways. What's special about it is not the story, but the feeling, the atmosphere, the mood. This design is designed to bring you something very similar to a movie-immersive experience and perception.
The combination of two different plate elements, arc and rectangle, breaks the traditional symmetry in the spatial structure, and uses the method of construction to metaphorize the relationship between wood and space and people in abstract form.
In the interior design, the designer uses the variety of shapes to guide the movement of the human body's vision and behavior.
Entering the space of the exhibition hall, we use the whole volume of internal cutting operation to separate the colors, and both facades appear a number of parallel l-shaped lines. The placement of the island platform enhances the overall sense of balance
Between the independent boards, the use of interpenetrating techniques, so that the whole body elements reflect a separation that is the visual sense, and for people on the line of sight to play a certain guiding role.
The white stone is placed asymmetrically so that its visual focus is on the right, leading to a different style of space.
The independent volume, the Interior hollows out, thus has limited the new function content in the volume element, and has limited two spaces, but also can make between two spaces is flexible, the flow. The feature of infinite extension in the block elements gives people visual directionality, expressing the designer's design concept for the flowing space.
All shapes should be abstract geometries in the eyes of the designer. Arc-shaped doorway, cylindrical Roman pillars, are the original state of space. In this space, the French façade contrasts with the geometric form, a metaphor for a return from the ornamental gene to the original geometric form. On the contrary, it has evolved from a geometry into a variety of decorative effect. There is a reciprocal relationship between the two, and the design should make it richer and richer.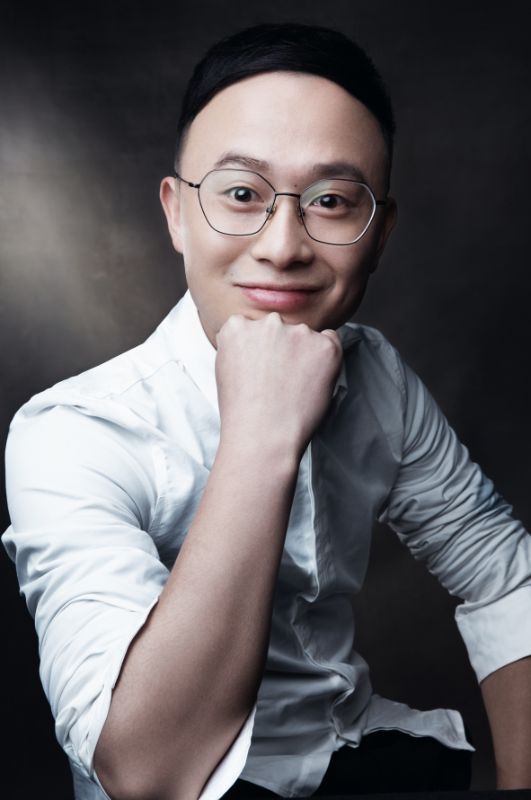 Designer: Lou Xiao Dong
SUN design DIRECTOR/DESIGN director
Registered senior residential interior designer
China Building Decoration Association member
Ningbo Building Decoration Industry Association Design Branch member
CAREER: 14 years
Good at style: American, European, modern simple, modern Chinese
Design Concept: for the design of continuous exploration, the pursuit of real and imaginary space combined with the results of the owners to create a perfect living space for the space to write an interesting story
Service description: Nationwide, we aim at villa, Taihei floor and other high-end private homes and high-end industrial projects, to provide owners with high-quality interior design and professional implementation services
Latest award:
2020 Dulux Colour Award '20 Colour Pioneer
2019 Finalist of Ningbo Interior Design 40 Under 40 (2019-2020)
2019 M+CHINA TOP INTERIOR DESIGN AWARD Top 100 nominees for influence of the year
2019 JCPRIZE Excellent Space Design in 2019
2019 GROHE-CHINA HOME DESIGN ELITE LIST Zhejiang list excellent award