HANGHO LAND • BOMA NO. 36 PRIVATE CLUB
PROJECT
DESCRIPTION
Drawing on "Visit to the Land of Peach Blossoms", a poem written by the ancient Chinese poet Wang Wei, the project incorporates picturesque views in the poem into the design, which present an urban modern poetic space. The jade screens with landscape paintings, as well as staggered fish-like adornments on walnut wood grilles, are very eye-catching.
At the hallway, a spiral staircase finished by walnut wood veneers and enclosed by glass leaps into eyes, which echoes rocks, the pine tree and cloud-shaped artworks beside it. A reception area can be seen indistinctly from wood grilles. Interior spaces are well organized, which are mutually independent while integrating with each other. Walking up along the twisting staircase, it comes to the comprehensive reception area, karaoke area, bathrooms, and spa area, etc.
In the reception hall and entertainment area, automatic folding doors can be opened or closed flexibly, which enables the two functional areas to be separated from yet connected to the outside atrium. Presence of necessary columns in the space is weakened. Besides, the perfect combination of white marbles and walnut wood, as well as the match of grey travertine and brass footrest on the side of bar counter, showcase exquisiteness and elegance.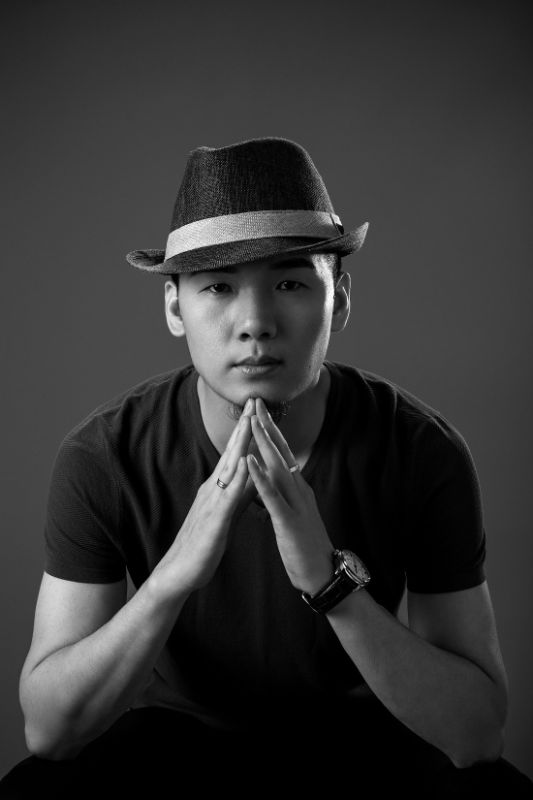 Designer: Xiqiang Guo
Xiqiang Guo, the founder of HZC (Xiamen) Design Consulting Co., Ltd. and anoutstanding interior designer in Xiamen, China, has been working on theperfect execution and realization of upscale projects at home and abroad for over 15 years.
With years of experience in working with domestic and foreign design masters, he has precise understandings on construction and realization of high-end projects, and the capacity to predict and solve construction problems in a coordinated manner. He leads multiple construction and execution teams, and has many supplier resources of special materials, techniques and construction technologies, which enable him to excellently execute and realize design schemes.
Guoexcels at utilizing Oriental Zen art and unique bespoke elements, integrating living scenes with natural ambience, bringing customized spaces to a new level, and creating spatial forms that fuse his company's aesthetic values with technology as well as modern and stylish elements.